New Vacuum Cleaner and Coffee Maker
We spent the weekend cleaning the house and drinking coffee! But we started with a little shopping.
We bought a new Delonghi Magnifica espresso machine. It does everything! You load it up with some beans and about a litre of water and then when you want an espresso you just press a button. It pumps and heats the water, grinds the beans, and even cleans itself before and after you use it. The cappuccino is a bit more work, but it is the fun part, you just dip the steam spout in milk and turn the valve. The machine is pretty fast, you have to wait 20 seconds or so for water to heat every so often but you could easily serve up coffee for 10 people in as many minutes (not that I'll ever have that many visitors). There's little or nothing to clean afterwards also, other than the cups themselves.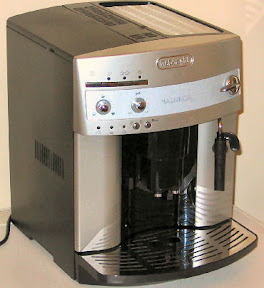 Andrea loves it. The coffee is better than a cafe, you get exactly what you want in terms of strength and quantity. On the down side, it was a bit expensive. I've been working out how much coffee we'd have to drink to pay for it (compared to drinking in a cafe), and it is a lot. Also if we only drink coffee at home, we'll never leave the house and end up a couple of hermits - jittery, hyperactive, hermits.
Our other purchase from yesterday is a Philips Marathon vacuum cleaner. (You know you can't call them "hoovers" any more?) I've been meaning to get bagless for some time, but Dyson were always too expensive. Anyway, this 2000W monster is great! We were a bit worried about making a mess when emptying it, but I've emptied it once and it wasn't too bad. No bags means it stays strong continuously. The drum is glass so you can see when it is full. Also, if you suck something up by mistake, you can just take it back out. This is so much better than our last one. Even though I cleaned last weekend (before Andrea's arrival) it was amazing how much dirt it picked up.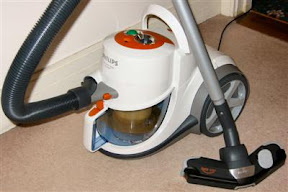 So in the end we had a bit of a marathon cleaning session today. It was fuelled by endless cups of fresh coffee and a our fascination to see what sized objects the new vacuum cleaner could suck up. I toyed with the idea of smashing the old one into little bits and feeding it to the new one, but as poetic as that might seem it would have been far too much work.